Marvelous Middlegrade Monday, er, Tuesday: May B
Have you ever read a book in verse?  I hadn't, and wasn't sure what to expect.  Truth…I wasn't sure I'd like it.  Poetry has always seemed to me something best suited for shorter forms, though I love Dr. Seuss of course and that's a bit longer.  If you're like me and wondering if it can be done well, pick up May B by Caroline Starr Rose.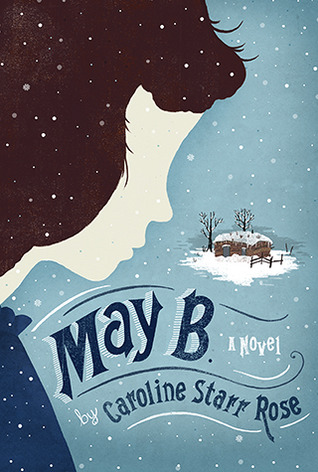 If you do, you'll see that not only can a book in verse satisfy the reader's demands from a novel, it can suit the material better than a tradition format.  It's something I've quite suddenly become quite passionate about!  Let me list a few reasons I like this verse style of writing better for May's story
The verses echo the shifting, eternally sighing mood of the prairie, which in turn echos the challenges of a young girl left abruptly alone miles from help or provisions.
May B has a difficult time reading–it sounds like dyslexia–and the poetry sets apart her thoughts and approach to reading or writing, acting as a subtle reminder to the reader that she's here because the words beneath her eyes won't behave how they should.
Free verse poetry has a reputation for angst and internal thoughts, so its use lends a certain intimacy to May's story.  The form reinforces the subject.
A pioneer girl without much paper or schooling wouldn't write lengthy diary entries, so the traditional approach to first person accounts of putting them in journal format would feel inherently false.  Instead, we are given her thoughts as she might jot them down on a slip of paper, or order them in her mind.
The most amazing thing about reading this was the way the story's plot, characters arc, setting, and format all work together to reinforce one another.  The book's power and impact are increased in the process, delivering a truly knock-out story.  It's not often I gush (okay…maybe sometimes I do!) but I'm pretty confident that I'll be having a fan girl moment if I ever get the chance to meet Caroline!  Luckily for me, my middle school writing club is skyping with her this Thursday, so you can bet I'll be hovering behind the kids, doing my best to pluck up any stray story advice she lets drop and tuck it away in my writer toolbox.
That's my response to my first novel in verse–but let's see what the cat thought of it.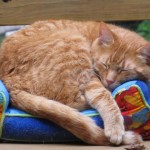 "The story wandered when it was wandering time and soaked up the sun when it was time to sit–I liked it.  But what that girl really needed was a cat.  Forget snakes, a cat would have taken care of the mice and kept her company when she was lonely.  It would have kept her warm in case of blizzards, and with it setting her an example, she would have slept better!"
You know, I think she's right.  Cats generally make everything better! lol  Of course, don't tell the dog I said so. 😉
I've also posted today on the the Cabinet, the group blog I share with my awesome author friends.  Stop by and pick up a few twitter cheats, and enjoy the pic of me covered in opinionated parrots!
[wb_fb_f name="caroline starr rose" id=""]