The Witch of Blackbird Pond, by Elizabeth George Speare
Definitely a classic, rather than a new release, but a timeless one at that!  The Witch of Blackbird Pond to my mind encapsulated the very best in historical fiction, because it does three things:
Educates as to the culture, mindset, and significant historic struggles of the time period in which it's set.
Touches on broader human issues which plague modern times, too–in this case, the prejudice and fear which drive a witch hunt, whether the mob be literally looking for witches or go after them by some other name.
Entertain the reader so well, with characters so inspiring and suspense so well drawn, you will never stop to mind that the first two are happening.
And this book does all three superbly!  I found it just as poignant and touching a read now, on picking it back up, as I did when a young teen.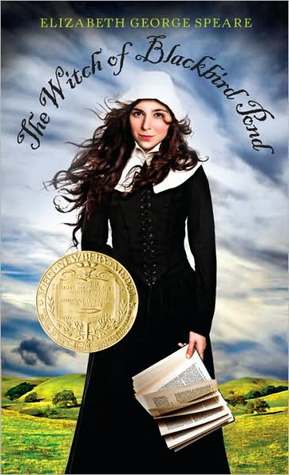 As Kit Tyler leaves behind her affluent life in Barbados and becomes the poor relation in a stiff puritan family of New Englanders, it's nearly impossible not to sympathize with her changed circumstances and outsider status.  She's also a good example of a flawed character being likable nontheless, and a character that grows a great deal over the course of the book.  There, too, it's interesting to watch as Kit originally believes the people of her adopted town in Connecticut are completely wrong in every view, while later coming to appreciate their strengths.  Of course, there's the not so minor matter of her being tried as a witch to be cleared up, but that's part of the book's excitement!
My intent in picking the book back up–or at least, my excuse–was to see if it felt to me like a middle grade book.  And the answer is mostly yes.  It's quite likely that some middle grade boys (and potentially some girls) would find the prolonged focus on marriage and courting to be rather dull, and feel as restless and Kit herself when reading about dowries and domestic chores.  It's also quite likely that some of the more sensitive middle grade readers would benefit from having an adult read along with them, at home or in the class room, because the moments when Kit must save her elderly friend from the mob and is herself accused of witch craft are a bit intense.  They're nothing compared to many modern day thriller-style stories, but because they bring up the history of witches and what was done to accused witches, they may be a bit much for a younger or more sensitive child to wrap their head around without help.  Likewise, the background thread of Kit's casual racism, while true to the mindset of the time, would benefit from adult-guided discussion.  But for most middle graders, it will likely become a beloved book and story that stays with them for life!
Now, let's see what Apricot-kitty has to say: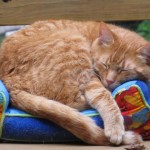 "I liked that young man, Nat.  Not only did he have the decency to save the witchy widows cat, he had the good humor to poke a little fun at those uptight puritans.  As I sleep in the sun and anticipate Halloween, I'll dream of a big house, mostly finished, all lit up with jack-o-lanterns!"
Yes, did I mention that The Witch of Black Bird Pond would make a great Halloween read?  More in mood and feel than in content–though, as Apricot mentioned, there is a bit of fun with jack-o-lanterns–it's still a good fit for the fall season.  Give it a try, or re-read if you've read it, and tell me what 'seasonal' books you're reading!
For more Marvelous Middle Grade Monday spotlights, reviews, interviews and giveaways, stop by Shannon Messenger's blog, and wish her good luck on the release of her new book, Everblaze, while you're over there!