Candy Shop War and a swift hello!
I could make excuses as to why my holiday break has stretched weeks beyond the holidays, but I thought it would be more amusing if you picked an interesting one for me.  Accordingly, you may pick 1 (one) of the below excuses!
Two dinosaurs and three aliens crashed at our place this past weekend.  They turned their happenstance meeting into an epic peace treaty, and sealed their pact with way too many chocolate covered pretzels.
I was coerced into living my dream as an Olympic skater, and in the process went undercover to stop a plot to chip away all the ice (from the underside) hatched by a team of Elementals.  And, while triumphant in saving the day, bashed me knee up in the process.  Saving the day can be hazardous, kids.
Word got out that our house, as the past home of a (future) well-known writer, was on the market.  Accordingly, droves of (future) fans set up times to come see the house.  Being true fans of irony, as only fans of humor can be, they set these appointments up on rainy days whenever possible, so they could check our floors for muddy paw prints.  They're very pleased with their record of having reached nearly 200 visits.
While marching my family past an assortment of doctors, I made the mistake of laughing off the need for a flu vaccine.  Said doctors shrugged off my comments…until they happened to meet up together under the same umbrella while waiting for a light.  When they realized I'd bragged of my no-need-for-flu-shots status to EVERY one of them, they knew my hubris had to be corrected.  Accordingly, they hired a ninja to sneak into my house and sneeze on me in my sleep, giving me the flu.
Thankfully, while pieces of all these excuses really did happen (and I got a pic of the ninja's shadow to prove it), only one will suffice. 🙂
So, what's up for MMGM today?  Just a taste, I'm afraid.  Said excuses, being still in effect, prevent my sending out the full beam of my regularly scheduled spotlight.  However, I have been reading, and plan to share posts at close to my usual rate, starting next week.
In the mean time, stop by the Mommy Authors blog for my post on Embracing your fears with the help of the X-Men, in which I give a little tease glimpse of a possible fearful attempt I'll be making sometime in the next few months.  And while you munch your after-holidays-pre-valentines-day candy, I suggest you pop open a copy of Brandon Mull's The Candy Shop War.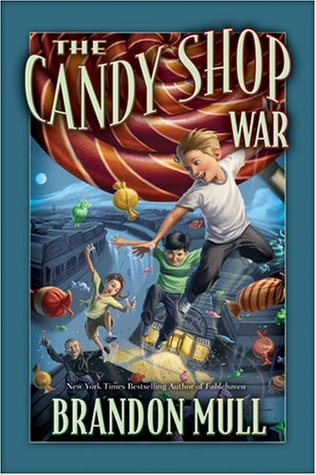 I read Fablehaven back when my son zoomed through the series, and enjoyed them.  And while different, I think Candy Shop War stacks up well beside it, at least if you can forgive its total lack of fantastical creatures, and avoid getting hung up on the switching POVs.  In fact, despite being full of wizards and wild candy-fueled acrobatics, it felt more possible, and was really quite wonderfully creative.  At the very least, it will change your life, as you'll never look at white fudge in quite the same way again.
Happy MMGM to all participants, and I hope you all have better luck than I've had at juggling ninjas, aliens, dinosaurs, and Elementals!