Shout out for Description, and round up of Middle Grade links
Could that subject/title be any more boring?  Perhaps if I passed out prizes.  Clearly it's a good thing I'm taking a short break from my summer break to put up a post–if my absence lasted any longer, I'd probably forget where to find my blog!  So far the break has been glorious, however, for reading, writing and editing novels! 🙂
As suggested by the subject, I'm popping up to give this book: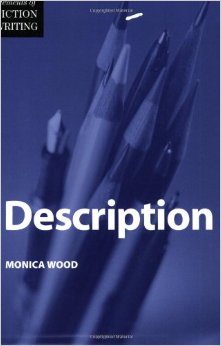 A shout out.  As I begin an extensive revision of my scifi middle grade–which shall go by the title of Treasure Hunters, but only because I'm apparently suffering from titling block–I've been working to write better description and more of it.  And I've found Elements of Fiction Writing: Description, by Monica Wood, to be super helpful!  It's not aimed at middle grades, and barely seems to notice the kid's fiction category exists, but still manages to brilliantly highlight descriptive tools I've managed to miss.  She also addresses how description and pov and voice are intertwined, and how to highlight certain telling points of your character through those things you describe and those you choose NOT to describe.  If you, like me, find your fiction running a little too trim and in need of a bit more oomph in the description department, I highly recommend it!
I've also been indulging in a bit of 'how to write middle grades' research.  There's a possibility that the extensive revision I mentioned above may actually involve turning my present book into two, since I have a tendency to cram so much plot into my stories that I explode the stuffing right out of them.  Here are some helpful articles I've come across while browsing:
A post titled The Secret to Writing Middle Grade Fiction by Eric Delabarre, found on the web site promoting his book, Saltwater Taffy–link to the site here.  I appreciated his discussion of the 10-20-10 rule, and went looking for more info on that.
That search led me here, to 22 Tips on Storytelling from Pixar, which I particularly enjoyed.  Numbers four, ten, thirteen, seventeen, and oh yeah, I should have mentioned six…lots of great tips here!
Found a pretty good overview of the middle grade category and expectations here, on Bob and Jack's Writing blog.
And a general guide to middle grade novel writing here, with a nice minimal outline, written by the illustrious Linda Sue Park.
None of these quite answered the plotting questions I came to my research with, but they pointed me in the direction of how to find my own answers.  So, perhaps a teaching me to fish instead of feeding me fish scenario?  I hope so!
How's your summer going?  Reading some great books?  I've read several I can't wait to spotlight, and am looking for more, so do tell!  And in the meantime, pop over to Shannon's Messengers blog for all the other MMGM links!  And I hope your summer is being good to you!