Shout out for Septimus Heap, preview of goals for 2016, and winner announced!
Since this is my last post of the year, it has to do the work of three–but that's alright.  Tis the season to multi-task, even if you're just a humble blog post.
First up, I'd like to announce the winner of The Goblin's Puzzle!  The prize is a hardcover copy that will be signed by author Andrew S Chilton, and mailed by him.  And the winner is–
Greg Pattridge
Congrats, to Greg!  Look for an email, to get your address.  And, thank you all for entering!  I really do appreciate all the support–I think a secret terror lurks in every bloggers heart, on hosting a giveaway…the fear that no one will enter.  I'm grateful to be a part of this community of supportive reviewers, bloggers and readers!
Second item of attention is a shout out for Magyk: Septimus Heap book one.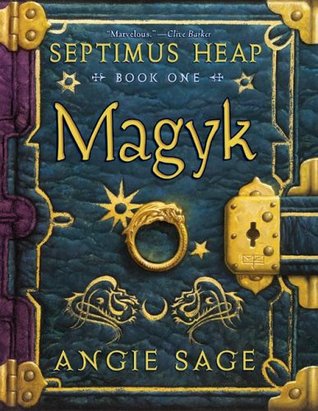 At the surface level, this book is rather in the vein of the Harry Potter books, and one would think that's where it would find its readership.  I think that it's true the readers will no doubt overlap, but some HP readers would find this a bit too wandering, while other readers who prefer a character-driven book with deeper exploration of family would connect better with this one.  It's told in omniscient view, so we spend time with quite a few different characters.  It really could be called 'The Story of the Heap Family' just as well.  While a bit unusual, I enjoyed it, and recommend it to readers young and old.  There are lots of quirky fun and poignant moments, painted with a light-hearted brush.
Last item on the list is an invitation to all the writers out there to join me or follow along as I participate in the 366 challenge, this leap year 2016.  It's being organized by James Maxey, and is detailed in his post here, in which he discusses this past year as Piedmont Laureate and what the new year will bring.  James is a good friend of mine, and I think it's a brilliant way to capture some leap year energy and galvanize my word count.  As I said, details to come, but the jist of it is–join with other writers and James as we strive to average 1,000 words a day this year, totaling 366k!
If you're like me, and this sounds a bit ambitious, just think–if you make it even halfway to your goal, that's still an awful lot of words!  Depending on the length of your novels, potentially three books worth.
In the mean time, I join with Apricot-kitty in, um, wishing you a…Christmas free of annoying people who put stuff you don't like on your head and expect you to wear it. 😉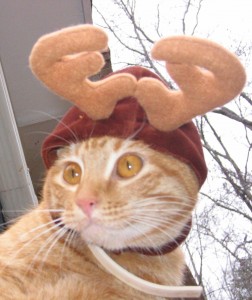 Happy Holidays!