A Little Shopping, by Cynthia Rylant, for MMGM, and GIVEAWAY winner announced!
In yet another shout-out to the younger MG crowd, I'm spotlighting A Little Shopping, by Cynthia Rylant, which is the second book in her Cobble Street Cousins series.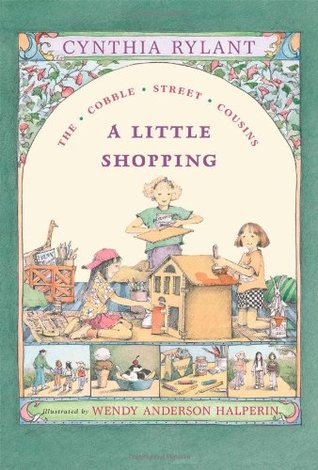 These little books, for just-reading-independently kids, are the often overlooked bridge by which young readers cross over into the larger story land of Mossflower, The Penderwick sisters, and Harry Potter, and on occasion I like to swivel the spotlight around to shine on them.
But first, we have a winner to announce!  The lucky entrant who won last week's giveaway of This Little President is–
JOANNE FRITZ!
I'll send you an email so I can pass your info on to Joan, Joanne!  And, I'll try to refrain from chuckling over that name pairing, as I do so… 😉  Thank you to everyone who entered or commented, for supporting Joan in her giveaway!  Thank you to Joan, too, for the lovely interview as well as the free copy of her book!
Now, on to this week's spotlight of A Little Shopping.  The key for me when considering a book like this is two parts.  First off, I try to put myself in the shoes of the intended audience.  Would the book appeal?  Would they be able to read it?  Would it challenge them in appropriate ways?  The answer to all of these questions is yes, which of course is why I chose it for a spotlight!  I'm not an expert in these things, so I can't speak to it's lexicon ranking, but the book appears very well placed to me.
The second question which I think it's helpful to ask ourselves is, could the adult readers who will be called on to help the child sound out words, or sit beside the child as they read, stomach the book, as well?  This is trickier, of course, since the mileage between readers is wider.  However, I think many adults harbor secret wishes, from their own childhood, and books that tap into this universal kid will be more successful.  Humor is another must, but of course needs to fit the book.  And finally, it doesn't hurt if the book is sending unspoken messages that parent's and teachers are themselves trying to reinforce.  Hopefully these can be done in a subtle way, so the reader doesn't feel talked down to, or that they've been preached a sermon.  Done right, these contextual messages will simply slip into the readers minds, reinforcing a positive world view.  They can also provide a conversation starter, between young readers and/or the adults in their lives.
So, how did A Little Shopping do?  Once again, to my mind it did very well!  The premise that the three girls parents' are off on tour in a world class ballet troupe may be a bit unrealistic, but it's inventive and speaks to all of our desires to do what we really love, when we grow up, rather than settling and giving up on our dreams.  Similarly, the girls staying with their aunt who owns a flower shop may be a bit of wish-fulfillment for young girls, but also suggests a positive image that girls can grow up to own their own business.  As for the Cobblestone Cousin's themselves, who are a bit one dimensional, they at least also represent various 'types' of girls, with Tess hoping to be a Broadway star (rather like their parents), while Lily wants to be a famous (or starving, take your pick) poet.  Rosie's dreams are a little closer to home and involve a cottage with flowers around the door and lots of fabric to use in crafty ways, which is kind of refreshing.  Are any of the girls hoping to be scientists or doctors?  No, and neither are there any people of minorities, either.  It would be lovely if the books addressed these issues!  So, my marks for the book–so far–are tempered by its being set in a somewhat stereotyped, majority focused world.  Which brings us to humor.  On first glance, it would be easy to miss it since this wasn't the kind of story where kids were snorting milk.  Truth, it's unlikely the readers will be in stitches as they read, and smiles are more likely than outright laughter.  However, the story painted a bright mental picture and had just enough situational humor to add a little spice.  More importantly, the humor suited the book.
Now, let's see what Apricot-kitty thought of it: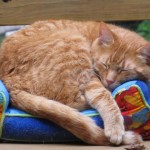 "I think this story was exactly like a soft bed in the sun.  Remarkable precisely because you can forget about why it's remarkable and just enjoy it."
And that sums up well the reason this series works!  This is a fleeting time in a young reader's life, and the individual interests of the kids plus their skill levels make it hard to group them together.  I'm guessing the books have to redefine niche audience, and are therefor probably pretty challenging to write.  But, this little book shows three ingenious girls creating a lovely gift for their aunt while keeping themselves entertained, and does it in a handful of words and a slim page set, while making it look easy.  No mean feat!
Tell me what you're reading in the comments, and share your thoughts!  Be sure to stop by Shannon Messenger's blog, as well, for more Marvelous Middle Grade Monday spotlights, reviews, interviews and giveaways.  And happy reading!