The Sun Trail (Warriors: Dawn of the Clan #1), by Erin Hunter, for MMGM
Happy December, folks! With Christmas and Hanukkah right around the corner, I think a lot of us are wondering what books kids will get really excited about unwrapping. I'm definitely seeing more requests for book recommendations on Facebook, and answering that question is one of my all time loves! The only down side is that I often feel bad for any books I forget to suggest, or can't recommend for that reader. So even as I offer these December picks, I'm sending a little love pat to all the books I couldn't choose!
For this week, The Sun Trail, from Erin Hunter's Warriors series, is stepping into the spotlight.
I think every reviewer, teacher, and librarian out there is familiar with the Warriors books. My oldest (who's nearly 20 now) got into them and got me reading them when he was around ten. A decade later they take up an entire shelf in most book stores and libraries, and have been reinvented and added on to in a dozen ways. So, why the spotlight on this one? Well, I think most kids start the Warriors books with Into the Wild, the first book, which features Firestar as he transitions to the wild and becomes a clan cat. And from that series it's an easy transition for kids to read on, following the story into the next generation of clan cats. But what about this prequel series? Are they a good fit for young Warrior's fans? Will they have the same vibe, and make young readers stay up all night reading? Should they actually be read first, since that's the chronological order?
The answer to that is 96% yes, and maybe not. I read this the first of the Dawn of the Clan books with an eye for age-appropriate material, that matched the intensity and handling of tricky subject matter of the original series. And in that regard, I felt the books were a solid match. I can also say that Gray Wing (the main character) and the other cats experience a good balance of adventures and what MLP fans call 'Slice of Life' moments, in which relationships are developed and we see the characters explore their daily life. Additionally, the introduction of the various cats is quite good, so the reader can readily sort out and identify with the most integral cats at each point along the way. As usual, the Erin Hunter team of writers did a superb job.
So, what about that other 4% and maybe? Well, I felt that the overall subject matter was a bit heavier than is generally seen in the original series. In both series, we see situations of betrayal, and moments where the main character cat must face the reality that he can't save all his friends, and is deeply disappointed in those cats he looks up to or relies on. But in The Sun Trail, those incidents far outweigh moments of lightness and fun. In fact, after finishing the books, I was hard pressed to remember any happy times for the cats that weren't also tinged with sorrow or sacrifice. As I said, the individual examples were handled well…but the sum total could overwhelm young readers. In this story, Gray Wing is not exiting a cozy kittypet home looking for adventure (as was the case with Firestar), but in the beginning has made a wrenching decision to face a dangerous unknown, for the survival of himself and his fellow cats. Moreoever, that danger is punctuated along the way but painful losses. So, Gray Wing's world reflects more desperate times and the viewpoint of a cat who has exited the kitten years and faces responsibilities at every turn. For that reason, I recommend that young readers begin with Into the Wold and progress forward through the books closer to how they were written. Following that route, they'll be ready for The Sun Trail's more stark world when they've read their way to it. And I suspect at that point will thoroughly enjoy it!
Now, let's see what Apricot-kitty has to say about the cat heroes: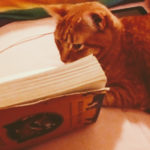 "Go away. I'm reading."
Hmm, I suppose I should speak to her about her manners…but then again, I was the one who interrupted her in the middle of a book, wasn't I? So I shouldn't be surprised at her response. At any rate, I give you all permission to recommend these books to your friends as 'cat approved' since they're definitely a favorite of Apricot-kitty's!
What books are on your holiday wish list? Which are you recommending? I'm always eager to find and read more books! Speaking of which–after you've stopped by Shannon Messenger's blog and indulged in the full awesomeness that is Marvelous Middle Grade Monday, I recommend you stop by the Kidlit Drink Night Podcast Facebook page and see which books they're giving away today. First off because the podcast is highly amusing and run by friends of mine (best reason to recommend something, yes?), and secondly because it's super easy to enter to win, and there's a new author-signed FREE book given away each day through I think the 13th or 14th of December! So, check that out. 🙂 And happy reading!