Goddess Girls: Persephone and Athena, by Joan Holub and Suzanne Williams
This delightful series has been one I've enjoyed for quite some time, so I was surprised on checking to find that I've never spotlighted any of the Goddess Girl books. I did do an interview with Joan just shy of two years ago. You can find that here–and I loved that I got this chance to look at it again!
Before heading into the two books I'll be spotlighting today, let me reiterate how lovely this series is! At the end of October, I sent my latest (and hopefully greatest) version of my Fairyland's Witness Protection middle grade back to my agent. And since this all-new revision meant aiming the book younger, at the 8-10 crowd, and bringing it in around the 30k mark, I spent all of October while I was writing it reading every Goddess Girl book I could get my hands on. Why the Goddess Girls? Well, the truth is…none of the other series that had the plot rhythm I needed remained engaging enough to pull me back after two or three books. In their defense, I wasn't reading the books the way they're meant to be read! I was reading them to keep my internal radar for plot and pacing in sync with the book I was writing, and I'm also way out of the intended demographic.
However, the Goddess Girl books remained thoroughly enjoyable twelve–yes, 12!–books later, and held up amazingly. I was impressed to find myself still drawn in, still looking forward to each book, even after reading so many in so little time. If you've got a reluctant reader on your holiday gift list, or a younger reader reaching up towards the Percy Jackson books but not quite there, let me recommend the Goddess Girl series. Between the four diverse main characters–Athena, Aphrodite, Persephone and Artemis–and the many other students at Mount Olympus Academy who get their moment to shine, there's something here for everyone.
It was hard to pick which ones to spotlight, but two of my favorites are Persephone the Phony and Athena the Wise.
It's not a stretch for me to understand why I enjoyed Persephone's struggles. I am a confident adult, and did well enough as a teen, but as a young teen I went through a stage in which I pretended to find boys cute just because my friends did, pulled an attitude with adults because that's how cool kids rolled, and came pretty close to vandalizing a building once, again, because that's what my friends were up. Nowadays, I make sure that any trouble I find I come by honestly. 😉
Persephone struggles in similar ways, though her friends aren't actually a bad influence. They just don't know what Persephone likes or doesn't, because she's never spoken up and told them! Her mom has always taught her to blend in and get along, and she's perhaps over-perfected the process. I love that the challenge of beginning to speak up has its own bumps, as Persephone at first over corrects, and I love that the story also addresses what it means to be a good friend, and how gossip can have unintended consequences. Parents may frown over Persephone's running away from home, but I think the outcome is positive and that it would make for a good discussion. Because after all…this book won't likely be the first time a kid encounters the concept of running away! Though it might be the first time they hear of someone running to the underworld. 😀

In Athena the Wise the young Goddess Girl finds herself caught up in her father, Zeus' schemes. She's rather intimidated by her father–she hasn't known him long–and wants to be as wise as everyone believes she is. So she agrees to help…even though she's not sure what she's agreeing to. As she sets out to help Hercles settle in to the school as Zeus asked her to, she finds herself liking the mortal boy, and puzzled by that since her initial impression of him isn't all that favorable. She also has to juggle how much help to give, and how to respond when her status as a Goddess comes under threat.
While I found the characters sympathetic and enjoyed watching Athena grow, it was the clever solutions to Hercles' twelve 'labors' or tasks that really caught my attention. Over and over again the kids, and especially Athena, came up with smart solutions to problems which appeared to merely need muscle thrown at them. I won't give any of their solutions away, but I was happy to see that this book avoids a common problem in kidlit, in which we're told that the young characters are wise or smart or genius, but shown little evidence of that. So, this one goes on my list as a great story for all the problem-solvers out there who love to see characters being savvy!
Now, let's see what Apricot-kitty has to say: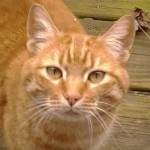 "You should have spotlighted Aphrodite the Diva, because of the glimpses we get of Egypt. Now there was a place that new the value of cats! However, my most pressing question is why those fluttery winged sandals of theirs aren't being sold as cat toys. I'll take five pairs, please!"
Ah, yes, the winged sandals students use to skim up and down Mount Olympus, as they head to the Immortal Market or visit Earth. All they have to do is strap them on–if the student is immortal–and away they go. I can see why they'd capture Apricot-kitty's fancy, and I wouldn't mind having a pair myself!
For more Marvelous Middle Grade Monday spotlights, reviews, and giveaways stop by Greg Partridge's blog! He's hosting MMGM for Shannon, while she's on tour, cause he's an all around great guy. 🙂 Make sure you come back in two weeks–on Nov. 27th–for my spotlight on The Unicorn in the Barn, complete with a super fun interview with author Jackie Ogburn and a chance to enter my holiday giveaway! I'm excited to share the lovely books I'll be giving away, and hope to see you all then!