DragonMasters One and Two, by Tracey West
Happy Halloween Eve! I hope you all aren't tired of these highly readable younger middle grades! Once I began reading them, I was too blown away by the quality of my favorites to skimp my spotlight. So, here we have a pair of fanciful tales just in time for Halloween, the Dragon Masters!
First in the series is Rise of the Earth Dragon.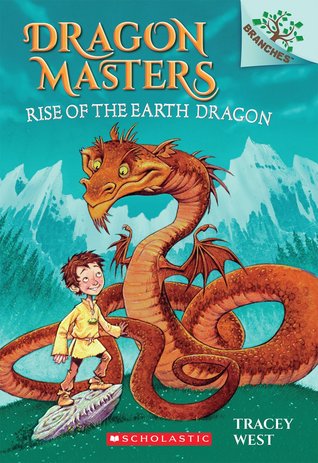 In this story we meet the main character, suitably named Drake, as he's whisked away from his home on an onion farm and taken to do a secret work for the king. But even after finding he is to become a dragon master, it appears he hasn't left his humble roots behind. While the other three dragons–fire, sun, and water–fly gorgeously and have amazing powers, the earth dragon Drake is assigned to train appears to be a dud. However, Drake loves his dragon anyway and bonds with him over their mutual loneliness. And in the end, this special bond saves all the dragon masters and their dragons, as the humble earth dragon unlocks previously hidden talents!
In the second book, Saving the Sun Dragon,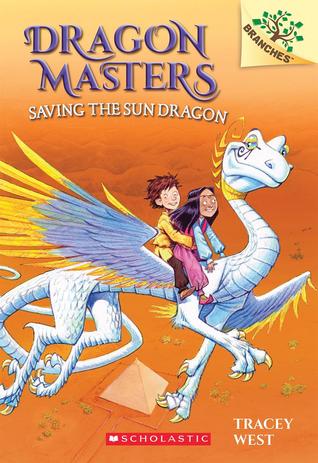 the beautiful Sun dragon Kepri takes ill. The wise wizard who watches over all the dragonmasters and dragons tries everything he can think of, and the kids pitch in to help. Eventually it is their mutual efforts which result in the kids being transported to a place where Kepri can get the healing she needs. Along the way and woven throughout, Kepri's young dragon master, Ana, has felt she was failing her dragon. But in the end, she discovers that through her self-sacrificing love for her dragon they have bonded, and the group goes home happy.
These are simple stories–given their super skinny spine, they have to be! But they each bring up a story question and an opportunity for character growth, and each book also forwards the underlying series plot, and what I suspect are nefarious purposes on the part of the king.
Chances are these books won't supply the meat older readers are generally looking for. However, when my teen daughter came across the books sitting on the table she picked them up, and read them through. They took next to no time, but she was surprised at how readable and enjoyable they were, all the same. So, this series is my recommendation for anyone with a beginning reader and a preference for keeping their sanity while helping their young reader with books. 😉
Now let's hear what Apricot-kitty has to say: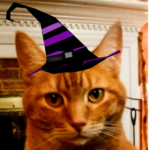 "Well, I thought the books were…hey! You put something on my picture, didn't you? What is it? A dragon mask? Dragon fangs? Take it off–I won't be partial to any more dragon nonsense!"
You'll have to excuse madam grump. She and I had a disagreement about whether she'd be dressing up for Halloween this year, and even though she won, now she's in a bad mood. Also, I'm pretty sure she's jealous of all the adoration dragons get…but don't tell her I said so. 😉
I hope you all have a lovely Halloween, assuming you celebrate, and I will see you all in November! I've got some great books going into the pre-holiday line up, and have plans for a giveaway.
For anyone who might live locally to me in the greater Raleigh area, there's a chance I could truly see you! I'll be teaching a series of flash fiction workshops at each of the regional libraries throughout the month. Here's a graphic with the times and dates,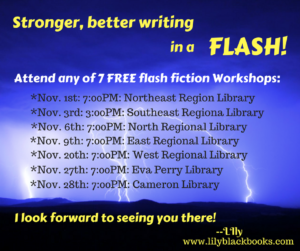 and you can also see the workshops listed on wake county's library event page. Though I'm doing these as Suzanne Warr I'll be passing out mini-book chocolates and bookmarks for my Lily Black book, as well as signing Storm of Attraction, and would LOVE to say hi if you can stop by!
I'm also SUPER excited that I'll be meeting Shannon Messenger in November, at the Raleigh stop of her Nightfall book tour. Lucky for me, my daughter and her friends are even more excited, so I can hide in the middle of them to sort of blend in. 😉 Stop by Shannon's blog for the details on where she'll be, and for more Marvelous Middle Grade Monday posts!