Charlie Small Adventures: Gorilla City, by Charlie Small
I wasn't expecting myself to like this slim little book, though I was determined to read it. My nephews are growing and needing new books, and I'm also writing toward a younger audience in my latest book, so I'm making a thorough study of these younger middle grades. The problem was it seemed this one was going to use keep-the-kids-reading gimmicks, and those are generally a turn off for me. However, I found myself pleasantly surprised! Charlie Small and Gorilla City swept me up, and kept me reading.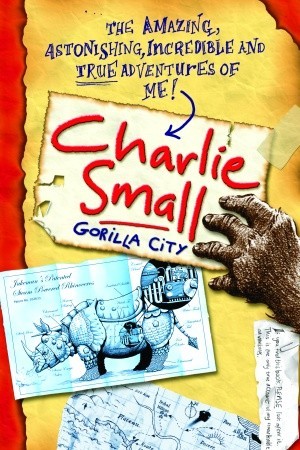 Charlie's narrative makes clear quite quickly that this may be something of a tall tale, of the kind many a small boy has found himself bringing home to his slightly skeptic family. In the beginning of the book, Charlie has forgone outdoor adventures in order to master a new level on his game. When circumstances plus looming chores force him out the door, he grabs his ready-rucksack of all things an adventuring young soul might need, and heads off to try out his new raft.
What he doesn't take into account is a rain-swollen creek, and he's soon headed off into an unknown land filled with giant crocodiles determined to have him for a snack, a protective and companionable steampunk rhino, and of course the gorilla village where Charlie is first taken captive and then takes refuge. Throughout are drawings and insertions as if Charlie were writing up the adventures in real time, and the pace plus the story voice make for a fairly nonstop adventure story!
But let's ask the expert on quiet adventures, Apricot-kitty, what she thought of it: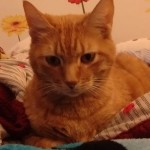 "It was okay, once the boy got out of the water and when he wasn't eating bananas. The part with the rhino was my favorite. Do you suppose we'll get to see creatures like him again?"
That's a good question! The story is compact, but does a nice job of hinting at further world building which will hopefully get explored in future books. And yes, that means I may have to, erm, do further research and read some more of these! 😉
I hope you're having a lovely first Monday of October, and have all kinds of delightful adventures planned for this the most imaginative of months. Me, I'm torn between a day at the NC State Fair, or a day at the Renn Faire just south of me. Or maybe both? Because how can I ever choose between sitting in a globe-lit garden watching a fire dancer while I munch pimiento on a stick, and watching glass blowing in full pirate regalia?
Tell me what you're reading, and be sure to stop by Shannon Messenger's blog for spotlights, reviews, interviews and giveaways!