I'm so grateful I got to be a part of Mari's journey! My heart is full, here at the close of this series. From the very beginning, when I was fortunate enough to receive an arc of Odin's Promise from Sandy, I was moved by the significance of these books. Within my soul something whispered that these stories need to be read. This is true not only because they teach of a period in WWII history that many are unfamiliar with, but also because of the way Mari and her family cope with the challenges they face. We live in a difficult world, and have a deep need for books which model the ways families and individuals can stay strong in the face of their challenges. What was harder for me, at the time I read the first arc, was that Mari's story seemed to be getting overlooked. I'm thrilled to have witnessed that change as the books have collected awards and word has spread, and I'm delighted to spotlight Mari's Hope today!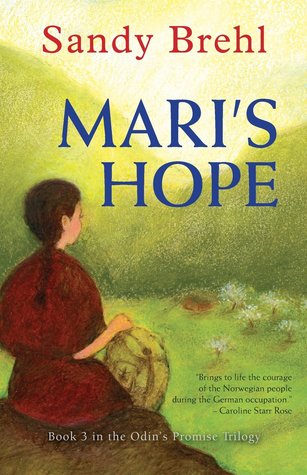 In this story we finally see the end of the war, and the hopes Mari has been holding out for come true. Given that this is the third book, I will do my best to avoid spoilers. To that end I will highlight things I loved in this book and the series, rather than go over individual events.
One of my favorite things was the way Mari grew and came into herself. At the beginning of Odin's Promise, she's so painfully shy that she's nearly incapacitated by her own embarrassment. She makes progress throughout the first book at overcoming this shyness, but it isn't easy. Step by baby step she does it because she recognizes the need for her to stand tall and use her voice for good. In this she has the support of her family, who help her find the humor in painful situations, stand behind her when she's frightened, and shower her with love.
Something else I really enjoyed was the different stripes of heroism that are highlighted in this third book, in particular. Mari makes new friends and finds people who have a bold courage. Friends who show the kind of spunk and daring which is most commonly associated with heroism. However, it's also very clear that quiet, mild-mannered Mari takes just as great risks and plays a more significant role on an individual level, and perhaps even in the grand scheme of things. The truth, of course, is that every individual and every kind of person would be tested by circumstances such as Norway faced during the Nazi occupation, and every person's unique talents and individual courage would be needed. I love how Mari's Hope highlights that.
I also loved seeing Mari's medical training continue to progress, and thoroughly enjoyed the way that Mari and her cohorts used the Nazi's germ phobia against them. Brilliantly done! In fact, the folks making up the Norwegian resistance were clever and innovative over and over, as they outsmarted the Germans in sometimes laugh-out-loud moments.
And that's another thing I loved about this book. Mari's parents and grandmother are not immune to the hardship they experience. It takes a toll, and in this third book Mari has matured enough to see the price they have all paid throughout the occupation. However, her parents and Grandmother never falter in modeling for Mari a stalwart courage and steady good humor that will see them through any trial.
Now I will admit…there was one aspect of this third book I would have preferred to see handled differently. Without giving away spoilers, there's an opportunity for reconciliation at the end that is mostly passed over, as Mari licks her wounds from the war. However, I can see reasons for this to go the way it did, and for me it was a preference, rather than a deal breaker.
Now, let's see what Apricot-kitty thinks: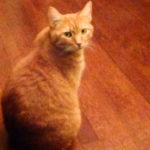 "I really liked this story. Spunky people, who know better than to put up with goats–or goat-like men. In fact, my only problem with this book is how hungry it made me! Suddenly my dry, boring cat food seems rather like their rations, and I'm craving something nicer. Get me some tuna, STAT!"
Yes, this book WILL make you hungry! In fact, even lutefisk (which I suspect would normally have zero appeal) will sound good to you, by the time the book is done. And piping hot bread slathered in butter and honey? It'll seem like heaven. 🙂
Many thanks to Sandy, again, for letting me take party in this journey and for allowing me to support her in the launch of Mari's Hope! Check out her website, and be sure to tell your friends about these lovely books!
For additional MMGM reviews, highlights, spotlights and giveaways, stop by Shannon Messenger's blog. And happy reading!