The Holy Bagumba-ness of Flora and Ulysses
I think it should be obvious by now that I love books.  If it isn't, you might want to open the little door at the back of your brain, reach in until your fingers find the gear marked 'observation' and give it a little nudge to the right.  You may also want to flick your finger against the knob labeled 'cat love', just for gp.
And as a book lover, it's not unusual for me to hug a book when I finish reading it.  Or, to hold it up and let my smiling face shine on it.  I've also been known to squee–though that last one makes my cool, martial artist side a little uncomfortable to hear me admit.  However, only rarely do I find a book which leaves me filled with the desire to run out into the streets squeeing my love and shining my happy faces on passing people (or goats, in my neighborhood) while pressing the book into their hands and declaring 'You have to read this!'
Pretty sure the goats would respond by ruminating thoughtfully over the words as they munched the pages of the book.  A primitive book club, perhaps?
At any rate, Flora and Ulysses is one such book.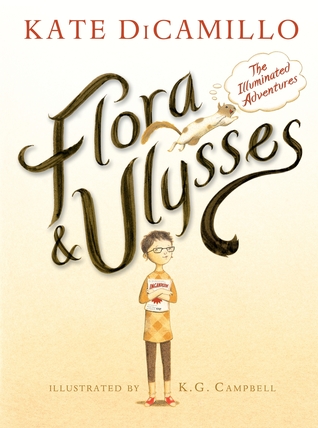 Except, I wouldn't share it with the goats.  I feel way to protective of it for that!  They only get a copy if first they get sucked up in a vacuum and sprout super powers.  And then only because I suspect Ulysses would want me to share.
However, I'm not going analyze why I loved it.  Wiser heads will pull it apart, dissect its inner workings, and enlighten the masses as to why it works so wonderfully.  Plus, it won the Newbery, and that fact seems to exhausts my analyzing muscles so instead of getting to work they sit down and have a bite of macaroni.
While they're enjoying that, I'll take a few minutes to wallow in those bright points of delight which are now a part of my life thanks to Kate DiCamillo and K.G. Campbell and, of course, Flora and Ulysses.
Holy Bagumba.
Big, beautiful, round heads.
Squirrel poetry.
Validation in my dislike of certain smug ceramic lamps.
Terrible Things Can Happen To You!
Seal blubber.
Blundermeecen.
I promise to always turn back toward you.
I could go on, but then where would I stop?  When I'd typed out the whole book?  No, that wouldn't work.  For one thing, this blog would get rather long, and for another, I am less impressed with sunny-side up eggs and giant do-nuts than a certain squirrel.
But let's see what Apricot-kitty has to say…if we dare.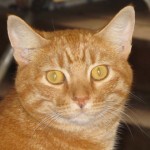 "What?  You can't seriously expect to get my opinion of a book with a squirrel as the super hero?  I eat squirrels!  And moreover, this squirrel clearly has a bias against cats.  He says so quite distinctly at the beginning of the book, and if that weren't enough, just look at the way he treated that poor Mr. Klaus!  And all Mr. Klaus did was engage in a bit of friendly mouse play when the humans showed up unannounced in his territory!  No, you won't be getting my opinion of this book.  You've forbidden me from using the kind of language the subject will require."
You know that saying about how you can't please everyone?  I think Apricot has just proven the rule.  Still, I appreciate her insights and when running around the neighborhood will avoid shoving this book into the paws of any stray cats.
Enjoy more Marvelous Middle Grade Monday recommendations, gathered here on Shannon's blog, and have a lovely day!