What would life be like if you were a prince AND a pauper?
You know it's a good book when you no sooner finish it than you start reading it again.  That's what happened when I read Jennifer Nielsen's fantastic middle grade, The False Prince.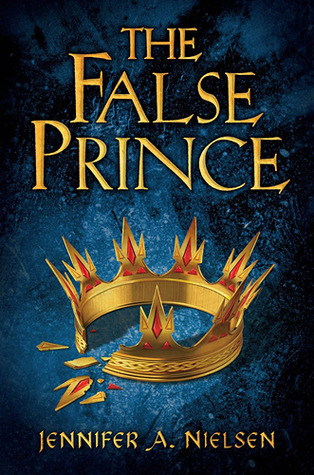 Now, the tricky part of recommending this book is dodging the rotten oranges that could follow.  That's because you'll notice, if you look around at the reviews of this book, the one thing that gets brought up over and over is the lovely plot twists the reader is in for.  And guess what's really easy to give away when spotlighting a book?
The plot twists, of course.  So, let me see what I can say without giving anyone the urge to throw produce.
It's got great action, complete with sword fighting, runaway horses, a sewer swim, secret tunnels, and the theft of a roast.
It's dark enough in the middle to satisfy the rising generation that aspires to Hunger Games intensity, while being light enough to remain a middle grade that most in the middle of that age range could probably handle.
The voice is fantastic, as is the main character, Sage.  Moreover, he's genuinely clever in the way a character can only be when the writer is also clever.  Hat tip to Ms. Nielsen, there!
You may see some of the twists coming (I did) but it's highly doubtful you'll see them all.  Mt. Everest highly doubtful.
It's also the kind of book that, if you happen to be a writer, can teach you wonderful things about the use of pov and foreshadowing to enhance your book, while still remaining true to the reader.  This was why I immediately had to read it again–I wanted to examine it to see how well certain things were established and plot seeds sewn.  And, they're there, every one of them.  A masterful job, truly.
But at the end of the day, none of that would matter if we didn't care about Sage and the other orphans, Tobias, Roden and Latamer, who are being forced at knife point to prepare themselves to impersonate a prince or die trying.  Because it's really their story, and it's amazing!
Now, let's see what Apricot-kitty thought of it: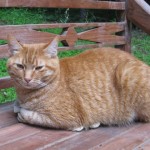 "You know any book where the character spends that much time climbing in and out of windows and slipping silently about at night is going to get my paw print of approval.  However, why had he never learned to pick a lock?  That seems a skill an orphan like him should have picked up long ago, and it would have really helped him in a certain dark and desperate place."
A good question, and one I can't answer.  Perhaps he just hadn't gotten around to it yet?  Or, perhaps…but I'd best stop there.  I see the produce catapult being readied!
Needless to say, if you don't have The False Prince on your To Read list, you should probably fix that. 😉  For more marvelous middle grade recommends and interviews, step over to Shannon's blog.  And while we're on books, got any that I should put on my summer reading list?  There's a beach trip coming up, so tell me what I should take that will suit sand and sun!