Interview with Andrew S. Chilton and GIVEAWAY of The Goblin's Puzzle!
I am thrilled to have
Andrew S. Chilton
on the blog today, in a double-win interview and giveaway of his book!  
The Goblin's Puzzle
is his debut novel, and will launch in January, but it's already making a name for itself and has received starred reviews from Publisher's Weekly AND School Library Journal!  Here's a little about it, from
Goodreads
:
"Brimming with dragons, goblins, and logic puzzles, this middle-grade fantasy adventure is perfect for readers who enjoyed The Princess Bride or Rump.

THE BOY is a nameless slave on a mission to uncover his true destiny.
THE GOBLIN holds all the answers, but he's too tricky to be trusted.
PLAIN ALICE is a bookish peasant girl carried off by a confused dragon.
And PRINCESS ALICE is the lucky girl who wasn't kidnapped.

All four are tangled up in a sinister plot to take over the kingdom, and together they must face kind monsters, a cruel magician, and dozens of deathly boring palace bureaucrats. They're a ragtag bunch, but with strength, courage, and plenty of deductive reasoning, they just might outwit the villains and crack the goblin's puzzle"
Doesn't that sound delightful?  I thoroughly enjoyed it–and will tell you so in detail when my spotlight on it goes up, come January. 😉  However, some lucky soul will be getting their hands on a FREE signed HARDCOVER copy, so they'll soon know for themselves!  Details of the giveaway at the bottom of the post.
And now, let's hear from Andrew.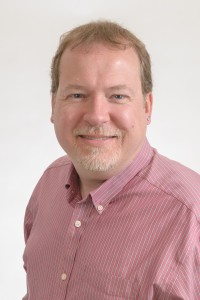 1–Thanks so much for joining us!  L

et's get a couple of the obligatory questions out of the way, first thing. What was your publishing journey like? How many novels did you write before The Goblin's Puzzle, or was it your first book? (If so, we all need to sign up for a slice of your life, cause it certainly doesn't read like a first!)
The Goblin's Puzzle is the first book I ever finished, but I wouldn't call it my first book. I first started trying to write a novel when I was twelve. That was more than thirty years ago. I've long since lost count of how many would-be novels I've abandoned along the way, but it's definitely more than twenty. (And that doesn't count the various short stories, film scripts and comic books I've tried to write.) So, in one sense, it took me a very long time to get there, but in another, it didn't take long at all. The problem with all of those failures was that I was trying to make each of them into something I thought I should be writing instead of writing in my own voice. Once I got out of my own way, the words came in a way they had never done before. I wrote the first draft of The Goblin's Puzzle in 27 days, and when I was done, I had a book that I knew someone somewhere would want to buy.
I was still a long way from being done, of course. It took a half-dozen drafts, three years and nearly forty rejections to find my amazing agent Pam Howell. Once Pam was on the case, things moved incredibly quickly. She knew just who to send it to, and she placed it with Knopf in just three months. I'm so excited for the book to finally be coming out.
2–What a great story!  Let's talk about the book that turned it all around.  One of the things I really enjoyed in the novel was the world building, and magic system. Things like Ludwig, the dragon, seeing names rather than shapes and colors the way we do, which means he could mix up two girls named Alice. Can you tell us a bit about your world building process? How did you come up with your magic system?
Honestly, I just make it up as I go along. I know you're supposed to carefully plan it all out in advance with notes and stuff, but I don't. Basically, whenever I get stuck, I try to think of the craziest, most over-the-top solution possible. Take the dragon seeing names, when I got to the part of the story where the dragon kidnaps the wrong girl, I suddenly realized there was no reason for him to make this mistake. I thought about taking a page from The Prince and The Pauper and having the two of them look alike, but that felt too convenient. And it'd been done many times. Then I thought, what if they look alike just to the dragon. Then, the idea of seeing names popped into my head, so I went with it. When it comes to world building, my motto is "steer into the crash."
3–I'll have to remember that motto. 🙂  I loved the shrewd narrative voice in the story, and wondered if I was hearing overtones of your background, there. How do you think your prior-to-writing life as an attorney impacts your writing? Or doesn't it?
Voice is such a personal thing that it's hard to say where it comes from. I'm sure that being a lawyer had an effect, but I don't know what it was. I can point to some other areas that draw from my legal career. One of the biggest lessons you have to learn when you start actually practicing law is that there is a formal set of rules that explain the way that things are supposed to work, and then there is the way that people actually do things on a day-to-day basis. These are often very different. If you look at The Goblin's Puzzle, you'll see that gap reflected. For instance, take West Stanhope. It has a king who is supposed to be the supreme ruler of the land. When we get to court, however, we see that his ministers constantly undermine him and work together to get things done the way they want.
4–Another example of your awesome world building!  Now a question from Apricot-kitty, because she's had her paw raised for the last ten minutes and may start scratching soon.
I needed to explain why the boy was so good with a slingshot. At first, I was going to have him hunt rats, but then I thought bats would be even funnier.
I've eaten a lot of crazy things over the years—including fermented seal flipper—but I've never had a bat. I did once meet a man who had. He was from Cambodia, and when he was a boy, he often went bat hunting with his grandfather. They would catch them in large nets and sell them in the market. He explained that bat soup is a delicacy in some parts of Cambodia. I did ask how it tasted. He said, "I don't think you would like it."
5–Remind me to ask about the story behind the fermented seal flipper, sometime. 😀   Last question.  What projects do you have in the works now? And where can readers find you?
I've got several different things going at the moment. There's a book about a girl who inherits a job in a magic hotel, and another about a boy who can undo magic. I recently moved to Los Angeles, CA to try to break into screenwriting.
Thanks you so much, Andrew!  It's been a pleasure having you!
Details of the giveaway are as follows: To enter, all you need to do is leave a comment through December 11th. Make sure your email has been left with your comment, so I can let you know if you won and get your information to Andrew!
Extra entries if you're a blog follower (just click the follow button in the bottom right of the page if you're not a follower), or if you mention this contest on Twitter, Facebook, or your blog, or follow Andrew (@andrewschilton) or me (@zeewarr).  Just mention any of the above in the comments, so I know to give you extra chances to win.  This is for U.S. residents only.  Best of luck!
For more spotlights, interviews, reviews or giveaways, stop by Shannon Messenger's
blog
for the rest of the Marvelous Middle Grade Monday round up!  And happy reading!