Blue Birds, by Caroline Starr Rose, for MMGM + announcing next week's giveaway!
Before I dive into the spotlight, I want to invite you all to come, and spread the word, about the giveaway I'll be hosting next week!  It will include an interview with the illustrious Joan Holub–150 books pubbed, and counting!–about her life as a middle grade author and illustrator.  And, we'll have a FREE giveaway of her newly released board book, This Little President, in honor of President's Day!
Now, on to this week's spotlight.  Those of you with an eidetic memory will recall that I was taken thoroughly by surprised, a year ago, by how much I loved Caroline's May B.  Or, rather, how much I loved that it was written in verse.  This time, I was prepared…or, so I thought.  And why wouldn't I be?  While I generally shy away from what my curmudgeon half labels weird new formats, I've branched out since reading May B, and can now proudly say I enjoy reading the occasional book in verse.  However, I was still blown away by how well this writing style suited the subject of the Blue Birds.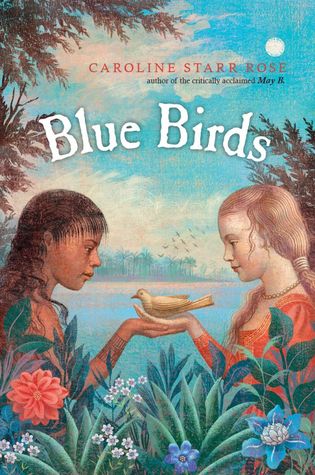 So, what is it all about?  This is the story of one 12-year-old Alis, who comes over from England, with her family, as one of the ill-fated first attempts to settle Roanoke Island, in 1587.  And is also the story of Kimi, a Roanoke girl, who watches with wary eyes as the English disembark from their boat.  Their stories are told sometimes in alternating sections, and other times tangentially, sharing opposite and alternating space on the same page.
This makes it sound as if the book would be hard to follow, but I found each transition smooth and easy, and believe middle grade readers would as well.  I also believe this book, while told with a large dollop of fiction, is a  great way to introduce young readers to this subject.  It's a time period with which we're naturally fascinated.  Where did the lost colonists go?  How did the newborn babies–including young Virginia Dare–fare?  These are questions which I've wondered about since first hearing the bones of their story, when I was a young middle-grader, myself.  Ms. Rose gives us her answer, and includes at the back of the book the facts, as we have them.
But, this isn't just a history mystery, interesting, but irrelevant to our day.  It's also a time period that can by very painful and confusing to kids, because it can be hard to understand how positive relationships between the native people and the immigrants could sour so quickly, and in a pattern that we see repeated time after time throughout US history.  So, lots of questions, and important issues to address!  The good news is, this book does that–addresses the big questions, discusses the problems, and delves into the possible scenarios–all while celebrating hope and friendship and what might have been, and doing it in such a way that the reader feels better able to live their life in such a way as to make a positive difference now.  It's a beautiful book, plain and simple.
Now, let's see what Apricot-kitty has to say: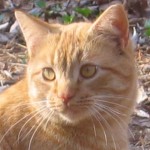 "While a tad overly taken with birds, I can't find any major fault with this book.  The British people did a bit more running about and being stupid than would be advisable, but I know from experience that's quite accurate of many humans.  And the two girls showed good sense.  I was glad things worked out for each of them.  However, they should have looked a bit deeper, into the forest shadows, and seen the bobcat crouched there!  He would have been worthy of their montoac."
Ah, yes, that's another thing I loved about this book–the way Kimi's people were represented.  It's easily apparent that Caroline did her homework, as Kimi was fresh and thoroughly herself in a way that was infinitely believable that she could have been, as was her people.  I also felt the verse style captured well the girl's fluid emotions, and the way their growing friendship was unfettered by language restraints.  But there, I'm gushing again.  I hope you'll pick it up!
For more Marvelous Middle Grade Monday reviews, spotlights, interviews and giveaways–including the giveaway of This Little President next week, right here on Tales for the Raven–check out Shannon Messenger's blog.  And happy reading!