Among the Imposters, by Margaret Peterson Haddix, for MMGM
Happy MMGM, my friends! I've been so focused on all things romantic suspense–we're exactly one week out from my Lily Black launch–that I feel I've been neglecting my middle grade side. And since I truly believe that in the center of my soul is a girl of some age between 11 and 14, curled up with a book, that was something I needed to change. In other words, hugs all around and it's great to be back! 😀
When I sat down to write about Among the Imposters, I first went looking for my blog post on The Hidden, so I could link this sequel back to that post. However, I didn't find it! Was it possible I never spotlighted it? Astonishing as it is to me, that appears to be so. Suffice it to say that I absolutely adored The Hidden, and it's on the stack of books that the child in my center keeps close, just because she can. If you haven't read it, quickly go and read it now, and come back to this post after you've finished it because there will be one or two unavoidable spoilers in discussing this sequel.
Okay, on to our actual spotlighted book today!
I prefer to get the bad news over with upfront so I'll just admit that in many ways I didn't enjoy Among the Imposters as much as The Hidden. However, I suspect that this was due in large part to the character, Luke/Lee, going through a rough point in which he's grieving losses, adjusting to a new kind of life, and trying to navigate an unpleasant environment. I'll also readily admit that a school without windows left me feeling claustrophobic and caged in. I've had a similar reaction to books which take place mostly underground, like Suzanne Collins' Underland Chronicles. In that case, I knew I was reading an enjoyable story rather than felt I was, because I could never find the underground environs of the story pleasant. My response to the Imposters wasn't so marked as that, but I still suspect the closed in aspects of the school negatively impacted my ability to enjoy the tale, and when added to the abuse Luke/Lee endures at the hands of the other children, compounded the feeling that this story was a much more challenging endurance test for the reader as well as the character.
That said, the hard-won triumphs of the end were all the more delightful because they were hard won! I also will never forget Luke/Lee's feelings as he works on his secret garden. If ever there was a story that would help city kids understand a farm-child's connection with the earth, this was it. So while this was perhaps not a book that left me jumping up and down and telling everyone how great it was, it's still one I highly recommend. At the least, it was the kind of book that leaves you with a glow of deep-seated satisfaction, and a determination to be better than you were when you began the book.
Now let's see what Apricot-kitty thought of it: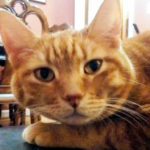 "That Mr. Hendricks was too clever for his own explanations. And so were those kids, who kept testing the Exnays. The boy Luke was interesting and I'm glad he won in the end, but much of the book was too much muddle without enough explanation."
Okay, so that may be true to a point. Many of the questions Luke/Lee has in the middle of the book may not feel adequately answered at the end. However, part of the point was that the school was intentionally set up to seem confusing, and appear poorly managed and idiosyncratic. So it worked for me! Have you read this series? What were your thoughts?
For more Marvelous Middle Grade Monday posts, interviews, reviews and spotlights, stop by Shannon Messenger's blog, and happy reading!