The Red Pyramid, by Rick Riordan, for MMGM
I have to give a huge hug of thanks to my fellow MMGMers for nudging me to give Rick Riordan another try. I was underwhelmed by the first Percy Jackson book. Didn't hate it, definitely saw its value on the MG shelf, but didn't care for Percy's voice and found the plot (or lack thereof) exasperating.
And never got around to reading another Rick Riordan book–until now. Thankfully I picked up a copy of The Red Pyramid as one of my summer reads, and was suitably impressed!

This is the story of a brother and sister who've grown up mostly apart from each other, in two totally different worlds. Sadie's grown up with her grandparents in London, and thoroughly absorbed the British culture of her chums at school. Carter has traveled the world shadowing their dead, and his education has been much less conventional. But when their dad tries to put right the terrible tragedy that killed their mom, the two are thrust together and quickly come to rely on each other as they try to stay one step ahead of the looming disaster that is their parents' inheritance. All while hosting Egyptian gods, and attempting to save the world, of course!
So, what did I love about this book? For one, the honest and frank way that race is addressed. Carter takes after their dad, and has known for years that he needs to handle himself extra carefully because his dark skin, curly black hair, and African looks will attract the wrong kind of attention if given half a chance. Moreover, since Sadie is blonde (under the streaks she likes to dye) and light skinned–taking after their mum–the two are often frustrated by people doubting that they can be siblings, or 'real' family. The book isn't about race, per se, but packs a powerful punch perhaps because of that. The Kane kids are just trying to get on with their already complicated lives, but the issue of race isn't going to politely step aside just because they have more pressing things to attend to.
For seconders (that's a word, right?) I love the depth of world building in the story. Sure, Riordan was tapping into Egyptian history and mythology for all his stuff, but I've taken university level classes that addressed/were focused on Egyptian history, and there was still a fair amount of world building needed for him to gather all this random stuff and pull it into one cohesive whole. And that's before you even get to the way he modernized the gods, and gave depth to the magicians both past and present. Truly amazing work, with lots of fun nuances for those of us with a little understanding of Egyptian mythology.
For thirdishes (okay, I just made that one up!) the book does an excellent job balancing pacing and the switches in pov. Is this something most readers are going to geek out over? No, not likely. But it's brilliantly done! It's hard–hard–to write a book in two povs without sacrificing anything by way of voice and while also never giving the reader mental whiplash. By framing the book as he did, Riordan allowed for much more streamlined shifts in pov, and gave himself a leg up on pacing, as well. All in all, I felt the balance of information and action was excellent, and the book brilliantly crafted.
There's more to love, but we'll go with those. 🙂 And now…for Apricot-kitty's take: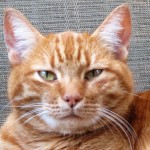 "Well of course I liked Bast, because who wouldn't? However, I felt she got rather the short-end of the story. And I'm also not buying that she'd run from any dog-like creature, no matter how supernatural. I'll bet that was put in there just so the Kane kids could shine without her. After all, they were the ones telling the story, weren't they?"
Thank you, Apricot-kitty for reminding me of the excellent supporting cast of characters in The Red Pyramid. Bast is amazing–definitely someone you should take along, if ever you go adventuring–but even the bad guys were wonderfully fleshed out and the conflict nuanced. Each voice rings out clear and individual, adding layers of interest. For any Riordan-hesitant readers, I say go forth and read! 😀
For more Marvelous Middle Grade Monday reviews, spotlights, interviews and giveaways, stop by Shannon Messengers blog. Next week I'll be blog-silent, but I'll be back on the 19th with a spotlight on Bjorn's Gift, and I hope to see you all here. In the mean time, many thanks for stopping by, and happy reading!