Magic Below Stairs by Caroline Stevermer, for MMGM
Happy Snow Day! That's our status, anyway. Everything whited over and cancelled yesterday and Saturday, and the roads just beginning to become navigable today. I hope you're all staying warm, wherever you are!
Stepping into the spotlight today we have Magic Below Stairs, by Caroline Stevermer. More on the author below, because you may not have heard of her, but I'd like to change that!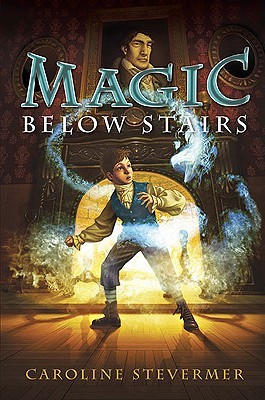 It was wonderful to see Caroline's book in the library. She and Patricia Wrede have jointly written some of my most beloved YA books: The Enchanted Chocolate Pot, The Grande Tour, and The Mislaid Magician. Just lovely, delightful reads, all of them. From there I was happy to branch out (both as a youth and adult) to read Patricia Wrede's books such as Dealing with Dragons and Mairelon the Magician. But books by Caroline Stevermer have been harder to come by, and this was actually the first I read which was hers alone. However, for those who've read the stories above about Kate and Cecilia, Magic Below Stairs takes place in the same world, and is primarily set in Kate and Tomas Schofield's household sometime between The Grande Tour and prior to The Mislaid Magician.
Okay, so what's this book about, anyway? Frederick Lincoln is an orphan in Victorian England, and forced to make the best of a less than perfect life. As the book begins he's unfortunately attracted a bit of unwanted attention from the orphan master because he was caught helping in the kitchen (for hope of some scraps) and is told to clean up by hand hundreds of peas and beans which the master scatters across the kitchen floor. If they're not all clean by morning, it's the still room for Frederick. For hours he works, because he's not one to give up easily. But the task wasn't meant to be possible, and some time in the wee hours of the morning he drifts off, his fingers raw and the task undone.
In the morning the peas and beans are all clean, however, and the floor spick and span. The master looks at Frederick sideways and trusts him even less, and Frederick is left with a hazy dream memory of a small green fellow named Billy Bly, humming as he worked to sort the peas and beans.
So begins their adventures as Frederick learns all he can from life and doubly so after being chosen–under somewhat mysterious circumstances–to work 'below stairs' as a footboy in the wizard Schofield's household. the first snag is of course the fact that Billy Bly is a brownie and has followed Frederick, and Lord Schofield has forbidden all such magic creatures from his home. A second snag, if you could call it that, comes in the form of a terrible curse on the Schofield home. Frederick and his friend navigate the first with aplomb and go after the second with tenacity and grit.
Mysterious magic in the night, a baby in peril, secrets to be kept and guarded, and all of it set against a background that's so detailed as to feel lush, bringing to life a Victorian England where magic and mystery are rampant. The book ends with hints of a sequel to come and I went looking eagerly for news of it, but see nothing as yet. However, the book works well as a standalone should a sequel never occur.
But enough meandering from me. Let's get Apricot-kitty's two cents: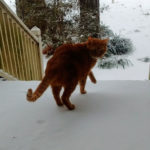 "You expect me to share my wisdom, when you still haven't cleaned up this nasty white stuff spilled all over the ground? Oh, very well. The boy showed wonderful ingenuity for a human child, and was clever in his never-ending hunt to learn. The Brownie was precisely what one would expect from such a creature–like a cat, but requiring magic to accomplish the same role. The character I liked best was actually the girl who became Frederick's friend in the big house. That Bess was savvy and fun. We should read a book focused on her!"
I'm all for it–just give me more books set in this world, and I'm happy! And a note on the world: the addition of magic changes things, of course, but otherwise the research and work spent getting details about Victorian England correct is impressive. Readers (and reviewers!) will pick up a bit more about life in another time, and never notice the history lesson. Far from being a bitter medicine, the book is such an easy, delightful read that one never knows there was any medicine at all.
For more Marvelous Middle Grade Monday reviews, spotlights, giveaways and discussion, stop by Shannon Messenger's blog, and happy reading!