Jasper and the Riddle of Riley's Mine, for MMGM
Many thanks to Joanne for my copy of Jasper and the Riddle of Riley's Mine. I won it in a giveaway she hosted on her blog, and was thrilled to do so! As my long time readers will remember, I've become a big fan of Caroline Starr Rose, and have spotlighted both of her previous books, Blue Birds and May B. In the spirit of full disclosure, I'll also admit that somewhere along the way, Caroline became a good friend, as well!
Jasper is a different kind of hero, and this book is uniquely his–as I'll go into in a minute–but Caroline's established readers will love this one, too. I certainly did! As you can see, it inspired me to do a bit of book photography, which is something I've dabbled with on my instagram account. Do you like it?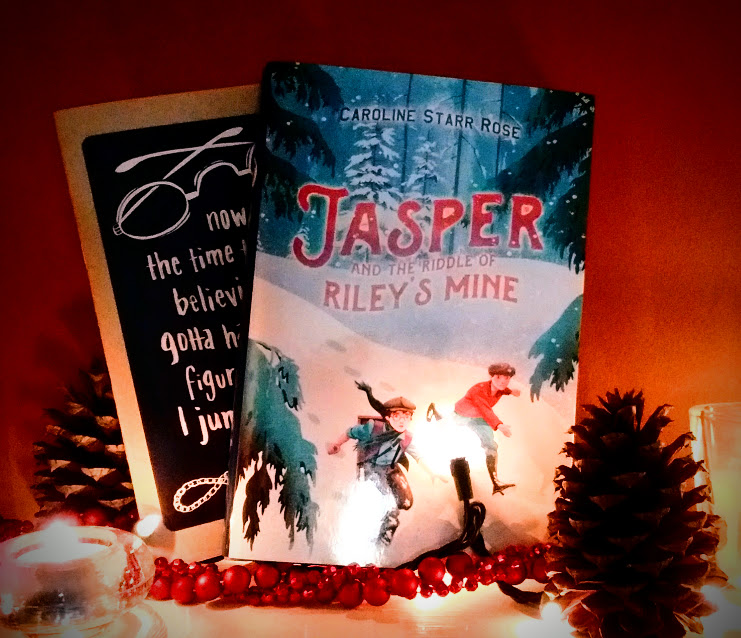 Were I to do it again, I'd sets the lights a little farther from the cover, but live and learn. 🙂 So, what's the scoop on this book? Well, aside from it having a boy protagonist, the other major difference is it's not written in verse, but first person pov prose in the traditional novel style. Which made me a little nervous! I have to laugh at myself a bit for that, because I was initially wary of picking up May B because I didn't know if I'd like a novel in verse. Now I've flipped it around, because I loved Caroline's verse novels so much! However, from the moment I opened the first page and slid into Jasper's head, none of that was an issue. Caroline brought with her the gorgeous imagery and amazing voice of her first books, and simply channeled Jasper's story in the most effective way for him. Here's a favorite sentence from page 190 describing Caribou, in case you doubt me:
 They move as one, like an invisible rope binds them together. They run filled up with life, their powerful brown bodies and fine white beards as big and untamed as this wilderness that stretches from the river to the shore and straight up to the sun.
Isn't that lovely? And still poetic? Yet it's all solidly in Jasper's voice and there's never anything girlish about it. I don't mind saying it–I was seriously impressed. However, I may be once again running away with myself! This is the story of how Jasper and his older brother, Mel, run away from home and the tough times there, to join the gold rush on the Klondike and hopefully get rich beyond their wildest dreams. Unfortunately, things go further south the farther north they get, which is another way to say that everything which can go wrong, does. The brothers press on, however, trusting to the clues which will hopefully lead them to old one-eyed Riley's abandoned mine and the wealth of gold he's left behind for anyone who can sort out his riddles. The story rips along at a good pace, from attempting to beat the coming ice on a raft in the fast moving rivers of Canada, to the nuns who help them do it, to the fascinating look inside mining life, the book is full of adventure and never slows down until the twist ending. And when you get there, just keep an eye on–no. I want spoil it. 😉
Let's see what Apricot-kitty has to say: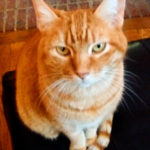 "Clearly the only people with any brains were those who kept store and sold to the green horns and greedy gold diggers. Why muck about searching for gold yourself, when folks would hand it to you, in exchange for the supplies they forgot to bring? Any cat would have known that."
As usual, Apricot-kitty makes a good point, and the book did a good job of touching on every angle of the gold rush, without slowing the story down. In fact, it's my opinion that discussing with a class the way that news became distorted the further from the gold fields it went would make an excellent way to talk about how 'news' can become distorted and sensationalized on the internet, as well. I'll bet it would make for a great discussion!
What are you reading? Let me know in the comments, and be sure to stop by Shannon Messenger's blog for more reviews, spotlights, interviews and giveaways. Happy MMGM, and happy reading!