Fridays with the Wizards and Saturdays at Sea, by Jessica Day George, for MMGM
Today's spotlight will be my only August post, since we've found ourselves going to the beach after all, and are squeezing that into an already full August schedule. I'm thrilled that we'll get the chance to soak up some sun and sand, but rather scrambling to get done all that needs doing!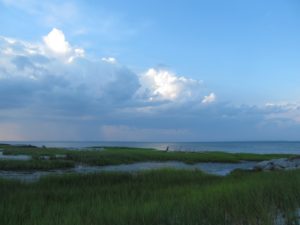 With just one post, it feels only fair I give you two books. What I found amusing about that is that apparently three years ago, way back in 2014 when I first featured Jessica Day George's middle grades, I did it in a post looking at both books which begin this series! Echoing that post wasn't my plan, but I like that there's a certain cosmic balance here.
I've heard a fair amount of debate over whether these last two books in the Castle Glower series were worth the read, and my answer is a resounding yes! The first in the spotlight today is Fridays with the Wizards.
You'll have to forgive me for being a bit vague, on some points, because it's my hope to avoid terrible spoilers even though this is the fourth book in the series. So…somethings I really enjoyed about this book were the way history comes together, as the Glower children continue to grow and learn more about their roots and the castle's origins. I also liked the way that Celie has to think outside the box, in the cat and mouse game she's in with the dangerous old wizard Arkwright. Of course the griffins are again a highlight, and their unique perspective on the world and newness help the Glower family stretch and grow.
But perhaps one of the things I liked best–and which I know will be a turn off for some readers–was the realistic portrayal of a girl's emotions at this age, as Celie navigates the beginnings of puberty and copes with the many changes in her family, plus a little fallout from their adventures. Many girls roll with this turbulent time in their lives and seem to have a buoyancy which is never dampened, and it seems they're the ones who wind up having fantastic adventures. There are plenty of other girls, though, who struggle to manage their emotions and navigate the challenges of this changing time, and it was wonderful to see brave and strong Celie having adventures and growing through them, while also being the kind of girl who might randomly burst into tears. I'm sure that's not for every reader's taste, but I appreciated the intrinsic honesty. I also really loved the development of many secondary characters, and the glimpses we get into the Queen's background and story arc.
And that growing story arc brings us to…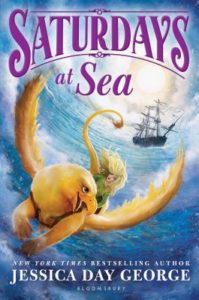 Saturdays at Sea. As this is the conclusion to the series and includes some big reveals, I'll try to give my insights without giving anything away! I enjoyed the Glower family's time in Grath, and the building of the ship. The subsequent voyage was delightful, though I can see that for some readers the book may be too far removed from our beloved Castle Glower. I also enjoyed the introduction of Kalys as a character, and the continued development of the rest the royal family. Each makes sacrifices, and grows, and the challenges they faced had real depth. Some parts of this book present a bit of a departure from the general series trajectory, but it worked for me, and in the end this might possibly by my new favorite in the series!
Now, let's get Apricot-kitty's thoughts: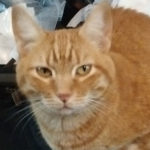 "You're joking, right? These books have been enjoyable, but that last one was awful! Dogs everywhere, simply everywhere, and they're only swept aside to make room for a terrible ravenous ocean! And yet you have the audacity to ask what I thought of it?"
Ah, yes. As it turns out, Lulath's family is even more fond of dogs than he is…and as mentioned above I can see how the long ocean voyage and subsequent discoveries will throw some readers. Had I been in a different mood on reading this last book, I might have felt the same. But if approached with a willingness to go adventuring and embrace wonder, I believe this conclusion to the Castle Glower series will delight most (non-cat) readers!
Do you have any fun plans, to finish off the summer? Got any great book recommendations for me to take to the beach? Tell me in the comments, and be sure to stop by Shannon Messenger's blog for more Marvelous Middle Grade Monday spotlights, reviews, interviews and giveaways!
Have a great August, and I'll see you all back here in September!