Gabriel Finley and the Raven's Riddle, by George Hagen, for MMGM
I noticed on preparing this post that it's the third book with the word 'riddle' in the title that I've spotlight in recent months. I hope you're ready for one more, because this week's spotlight is on Gabriel Finley and the Raven's Riddle! I'm grateful for the chance to take a second look at it, because I read this one on my phone, and didn't take much notice of the cover. Now that I can see it better, I really like it!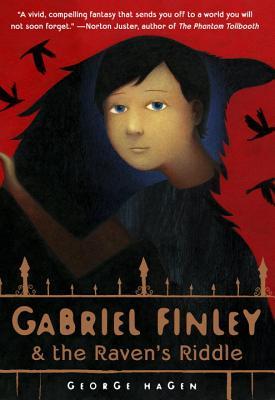 While the other books included riddles, this one is simply…riddled with them. I also really loved the way they serve a real purpose in the story, and aren't just window dressing. You see, according to this book, the way that a raven knows she or he is greeting another raven and not a dangerous valraven is by telling a riddle. Valravens have no sense of humor and don't 'get' riddles, so they're unable to enjoy the punchline. A regular raven won't be able to resist laughing or at least chuckling over the clever way a good riddle is resolved.
Gabriel learns this and lots of other things about ravens while discovering the special bond he enjoys with them. In the process, he rescues an orphaned baby raven, Paladin, who comes from a line of ravens connected to Gabriel's family. And while I loved many things about this story…therein we hit the first snag I had with it. In this world apparently there's a gender bias, so only boys can bond with ravens. Might not be true, because the rules aren't spelled out, but that's what appears to be the case since Gabriel's aunt gets passed by, and I could feel my young-girl self heaving a sigh at yet another adventure exclusion. And, while I'm going for a full disclosure, that wasn't the only flaw. The book also had an odd distance to the pov at times, and clumsy handling of Gabriel's perspective, in addition to the intentional pov switches. However, the story has impressive sweep and remains memorable long after the last page is closed–or swiped, in my case–leaving the feeling that if only you could listen harder, you'd hear the raven's riddles, too.
One example of this strength in world building was the fact that owls–traditional enemies of ravens, of course–prefer puns to riddles. So if you want to get on an owl's good side, you need to come up with something suitably puny (haha). We didn't get to explore too many other birds, but there are hints of a rich world among the avian crowd, with several species coming off so distinctly that I'll have a difficult time thinking of them in any other way.
Now, let's see what Apricot-kitty has to say: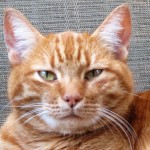 "I'm surprised you bother to ask. You're so taken with your bird friends and their clever jokes, you should really bring a raven on to discuss the books, and forget about me.
Oh, and by the way? Some of those riddles weren't all that clever."
Hmm…not sure that was what we'd call an unbiased opinion…and also not sure I should tell Apricot-kitty what kind of creature is the hero of a book I'll be spotlighting soon. Hint: it starts with an M and rhymes with house! But since she's thrown a disparaging comment at the book's riddles, allow me to share one of my many favorites, so you can judge for yourself:
I shine like a dagger
Or a diamond tooth in a dragon's maw.
I grow larger as the cold night comes,
And shorter in the thaw.
What am I?
Not too hard to guess, but fun, don't you think? I liked the imagery of it, too. As it happens, this riddle is offered a different kind of bird (not a raven) but is still integral to the story. All around, I highly recommend this book and believe it would make a fun read for both classrooms and young readers skipping through their summer!
Tell me what you're reading this summer, and if you've got any super fun plans! Just now I'm geeking out over the solar eclipse, since I just booked our hotel so we'll get to enjoy front row seats from the area around the Great Smokey Mountains. Going to be epic!
For more Marvelous Middle Grade Monday spotlights, interviews, giveaways and reviews, stop by Shannon Messenger's blog, and happy reading!