The Unicorn in the Barn, an interview with author Jackie Ogburn, and my Holiday GIVEAWAY!
I am delighted to be able to share with you today both my holiday giveaway and an interview with The Unicorn in the Barn author Jackie Ogburn! Jackie was one of my first friends/mentors within the kidlit world, and I adore the wonder and rich imagery of her picture books. When I heard she was writing her first middle grade, I was thrilled, and couldn't rest till I got my hands on a copy!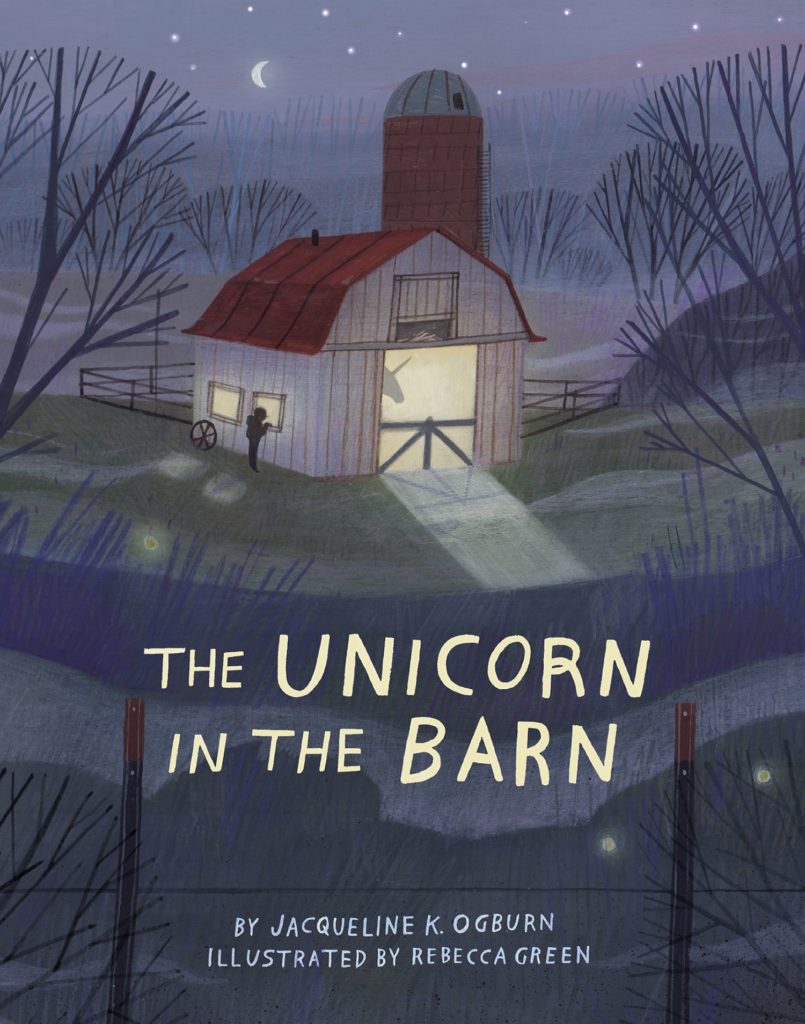 The cover perfectly sets the mood for this novel. Beautiful, with lingering images and a story that will resonate long after you've closed the book. I am so pleased to have Jackie here on the blog to share a bit about how this lovely book came to be. Feel free to ask any questions you have in the comments, and be sure to scroll all the way to the end and enter my holiday giveaway!
S: This is probably a question you get all the time, but I must know: where did you get the idea for The Unicorn in the Barn?
J: The initial inspiration came from my younger daughter. She had a stuffed unicorn, and one day she remarked that unicorns would be hard for doctors to treat, because of the horn. That made me wonder, how would a human vet treat magical animals?
S: How did the story idea germinate?
J: I love fantasy in contemporary settings, like The Dark is Rising series. I wanted it to be a bit different, so I decided to set it in North Carolina. The house and farm is modeled on the family farm where my mother grew up. I always want to have my stories be a little bit different, so instead of a girl having adventures with the unicorn, I decided it should be a boy. I wanted it to be very grounded, as if a unicorn really did come out of those woods, why would she be there and what would happen.
Research is always a big part of my books, so I read a lot of books about vets, went to the NC State vet school open house. I read books of horse anatomy and ailments, of which there are multitudes. Horses are really delicate creatures. To figure out what a boy could realistically do to help, I volunteered for six months at the Piedmont Wildlife Center. That involved lots of housekeeping, also cool icky things like unpacking mealworms, which came mail order in bags stuffed with newspaper and worms, and preparing frozen lab mice for the raptors to eat.
There is also some American folklore in the book.  The squonk is a Fearsome Critter, part of the lore around the American frontier, as is the jackalope.
S: You've made quite a name for yourself writing lyrical picture books. At what point did you know you were writing a middle grade?
J: I knew right away, this idea was too big for a picture book, even one of mine.  It needed more space to get into the details of how one would treat magical animals, how you would keep them safe and secret. I worked on it for years, because I had to learn how to write a novel.  It was like being good at the 50-yard dash and then deciding to run a marathon.
S: I can see how hard that would be! I don't want to give away spoilers, but I'd love to hear how you developed your idea of what a unicorns is like. For example, what could be dangerous to unicorns, what its powers are, how they live. Can you talk about that process?
J: I decided right off that this would not be a rainbow sparkle unicorn.  No flying, no rainbow colored mane or sparkly tails. This unicorn would be an actual animal, one that poops and needs to be fed and groomed.
One big thing I had to figure out was a way that the unicorn could not just heal all the animals and the people. I needed a reason for her to stay around, but not take over the vet practice. Creatures from Fairie are traditionally harmed by iron, so having the unicorn wounded by barbed wire was a good reason for her to seek help. Having twins is very dangerous for horses–they are rarely carried successfully–so a high-risk pregnancy gave the unicorn a reason to be in the barn over a longer period of time. The pregnancy would also be a good reason for her not to use her healing powers very often.
In folklore, the horn has healing properties even when no longer attached to a unicorn.  I thought then that the hair might also be able to heal, but at a lower level.  That way I could have some magical healing going on without everything being cured.
I also decided that Moonpearl would be intelligent, but couldn't speak human language.  That led me to the character of Timothy, the Cheshire cat, who can talk, and turn invisible. He acts as a translator.
The unicorn does have a herd. Moonpearl had to run into a unicorn stallion at some point. I think they live in Fairie, in the Underhill, but with connections to our world and sometimes travel between the two. They are not native to the U.S., they followed the European settlers. Harper's Woods has a doorway deeper in the woods and that's why there have been so many magical creatures passing through.
Many things I only figured out during the writing.  For example, that Moonpearl decided to stay with the vet once she knew she was carrying twins. She knew that they would be born in winter, and that was risky for the babies.
S: I LOVE all these details! In my Fairyland MG Mashup–going out on submission soon!–my character, Esme, wears a pendent of a black unicorn, and I hope to one day have a unicorn in the books. Hopefully I'll pull mine off as well as you have yours!
What projects are you working on now? Will there be a sequel or companion novel for The Unicorn in the Barn?
J: Yes, I have started a sequel, with the same setting and many of the same characters.  It centers on Allegra, and she is dealing with a wounded griffin.
S: Wonderful to hear there will be a sequel. I can't wait to hear more! Now, we have a couple of questions from Apricot-kitty for the Cheshire cat, Timothy: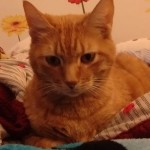 A: I found your power of invisibility fascinating. Got any great stories, of times you were invisible and something interesting happened?
Timothy: The charm of invisibility is that one can make things happen and the humans don't even know. One of my favorite games is "Torment the Dog."  I can stroll right up to the silly thing and bat it on the nose. The look of outrage and confusion is delicious.
A: Just my kind of game! My humans are a bit dense at understanding what I'm saying, though they do try. Do you find overall you like being able to speak to humans? Or does it create its own problems?
Timothy: One would think it would be easier to get waited on, but humans manage to ignore even plain English. I am afraid they just aren't very bright. The biggest problem is that humans seem to think that one is actually paying attention when they chatter on and on. They keep asking questions and expecting a reply. It can be quite boring.
A: Hmm, yes, I can see how that would be a problem. Just in case I were ever interested, how does one become a Cheshire cat? Is that something you have to be born into?
Timothy: One must be born a Cheshire cat.  We are quite rare. I have not met another outside of my litter mates and mother.
***
Thank you to Jackie and Timothy for answering our questions! And now, on to the Holiday giveaway of TWO beautiful middle grade books!
First up is a gently used arc of The Art of the Swap, which I was delighted to get an early look at. You'll learn more about how Kris and Jen came to write this wonderful time-traveling mystery in two weeks, on Monday Dec. 11th, in my interview with Kris!
Some lucky reader will also win a copy of Hatter Madigan: Ghost in the Hatbox, by Frank Beddor. This is an adventure tale about the teen-age Hatter Madigan, and looks really fun! It's on my TBR pile and something I'm looking forward to. Not being big on self-denial when it comes to books, I'm giving away a spare copy. 😉
I will do my best to get these books out the door ASAP once the giveaway ends, so they will hopefully arrive in time for gift giving. Best yet, by entering the giveaway you're giving each of these authors a small holiday boost, since I've included everyone's social media links and authors love to see readers give them a follow! Fingers crossed that the instagram links go through…this is the first time I've done the 'build your own' feature on Rafflecopter.
Thank you all so much for reading and commenting, and for being the wonderful folk you are! I can't wait to send out your books. 🙂
For more Marvelous Middle Grade Monday spotlights, interviews, giveaways and reviews, stop by Greg Pattridge's blog (since Shannon is still on tour) and happy reading!